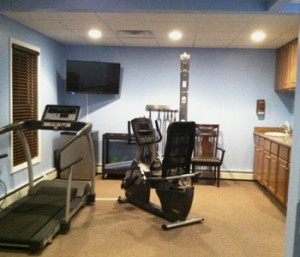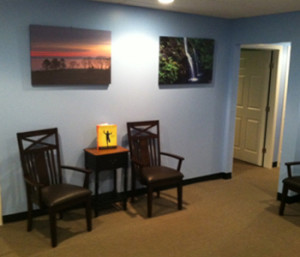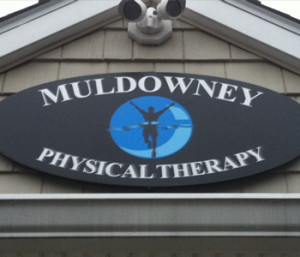 Muldowney Physical Therapy is a family owned physical therapy facility which focuses on providing the highest quality care in a personalized setting.  We treat all patients as if they were members of our family coming to get treated.  The owners, Kevin and Kathleen Muldowney, both graduated from the University of Rhode Island with a Master of Science degree in Physical Therapy.  We decided to open a physical therapy facility where the patient and their physical therapist work together one-on-one to achieve their goals.  Since we began our practice, sixty five percent of our new patients were referred to us from previous patients.  We believe that once you experience the quality of care in our facility, you will not want to go anywhere else for your physical therapy needs.
Our first goal is to educate our patients about their injury and how we can help to heal their injury.  After your initial evaluation, your physical therapist will take the time to sit down with you and discuss their findings with you as well as go over any questions and concerns you may have about your injury.  During every treatment session after your initial evaluation, your physical therapist will have time to discuss with you what they will be doing that day and how it will help you to recover quicker.  At Muldowney Physical Therapy, we believe an educated patient gets better quicker.  By the end of your treatment with us, you will not only feel better, but you will have the knowledge to maintain your healthy lifestyle.
Our physical therapists have 30-50% more one-on-one time with their patients than the standard average in Rhode Island.  We use this extra time to educate our patients about how to control their pain at home throughout the day. We perform most of our advanced techniques in a private treatment room so you feel comfortable discussing any concerns with your physical therapist.
So if you are in pain or know someone in pain and are looking for a facility that focuses on education and provides 30-50% more one-on-one time than the standard average in Rhode Island, then call us or click on getting started.  We would love to try to help you "Live Life to the Fullest."
What We Do As A PT
Muldowney Physical Therapy is one of the leaders in treating low back pain and neck pain.  We also treat pain in the shoulders, elbows, wrists and hands as well as pain in the hips, knees and ankles.  We also provide some unique services for our clients.  One of our physical therapists, Linda Letourneau specializes in working with people who have fibromyalgia, TMJ and headaches.  She uses a special technique called craniosacral therapy to effectively help these people with these specific problems.  Our physical therapist Jessica Papa specializes in women's health issues such as incontinence.  She uses a specific technique called myofascial release along with specific exercises to help work with women who are suffering with this problem.  Our facility is fortunate to have Dr. Justin Laferrier on our staff.  Justin is a professor at UConn in their physical therapy program.  He specializes in helping people with dizziness. Mid back pain is a tricky area of the body to help with physical therapy.  Kathleen Muldowney was specifically trained to fix these areas.  She uses a technique called muscle energy to help relieve your pain in your mid back.  She also works with infants with torticollis to help with their neck to move more effectively.  Matt Fontaine is our clinical manager and has developed a balance program to help those people who are unsteady on their feet and are at high risk for falls. Kevin Muldowney works with people who are diagnosed with Ehlers-Danlos Syndrome.  He developed a new physical therapy protocol for this population that has been achieving great success, both here in Rhode Island and across the country.
If you have any of the above issues, give our facility a call so we can help you right away.
"Before I saw Kevin I had lower back and hip pain.  It prevented me from running and working out and sometimes even walking or sitting comfortably.  After my time with Kevin, I am walking, exercising and running pain-free.  I can feel an enormous difference in my strength and flexibility.  Best physical therapist I ever had, and the only one who actually fixed my problem."

"Almost two years ago I suffered a back injury (bulging disc) lifting luggage at work.  I have exhausted many methods to try to relieve and alleviate constant back pain.  Most were bandaids, i.e. lots of anti-inflammatory drugs and muscle relaxers.  I've been to pain management doctors that give me cortisone injections which worked for a few weeks at best.  I knew the quality of my life could get better.  I was at a point where I couldn't sit in my car or go out to dinner without lots of pain.  I had stopped exercising which depressed me.  Finally my luck changed.  I was recommended to Kevin Muldowney.  I think of Kevin as a gentle giant.  He is a big guy but has compassion for suffering but more than that he has a deep knowledge about his profession.  I have learned more about my diagnosis, how to treat and preserve the health and well being to my back than I learned in some of my college courses at Providence College."